Choosing the Right Scarf for Your Outfit
Date Posted:1 June 2016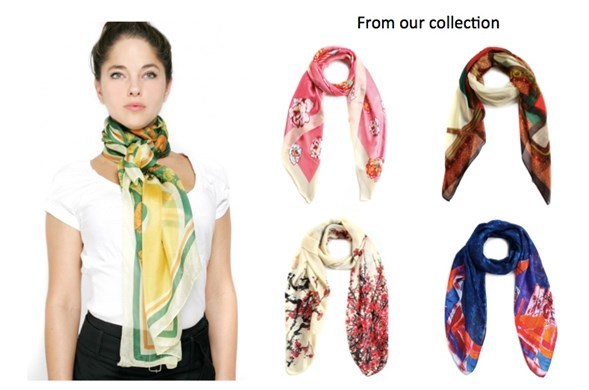 'The Art of Scarves' is what we like to call it. It's not that easy to choose a scarf that will be perfect for your outfit. There are different guidelines that you need to follow.
But don't worry, we are here to help you out!
Summer look
Silk scarves are great for creating formal and look great with business attire. It also jazz up a casual outfit and making it smart casual. There are many prints to chose from. There are many different sizes of silk scarf, so it depend on your preference. Some find silk scarf a bit cumbersome, as it is soft and slippery, but by tying it like the photo on the right, it looks beautiful and it keeps it in place.
Size

Size can be a factor you need to consider when choosing a scarf. For most days, I believe that a bigger scarf will always be better as long as it isn't humongous! This is a general rule especially when it comes to plain outfits. Take a look at the photo on the left for example. She is just wearing a plain outfit with neutral colors, but the big scarf really gave her winter wear some personality! Bigger scarves can some time double up as a wrap.
Manner of Wearing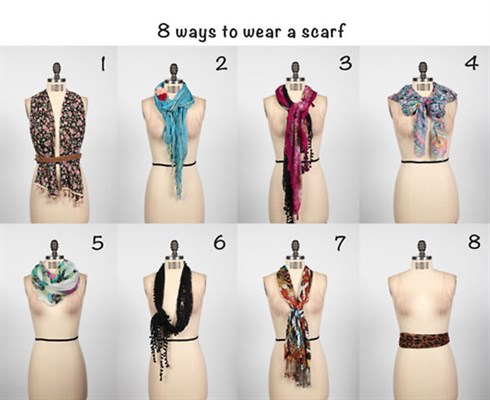 There are a gazillion ways to wear a scarf. I have experimented accessorizing my bags with it. I have even used some as a 'sarong' during trips to the beach. But the general rule when deciding on how to wear a scarf mostly comes from the basis of comfort. For example, if it's terribly cold, then you can tie the scarf all around your neck. If you feel a bit warm, then you can simply hang it on your neck. If you're wearing something plain, then you can create different knots so your scarf can have more character. Here are 8 ways you can wear your scarf with different outfits. Depending on what you are wearing and the weather, you can try some of these styles.
Fabric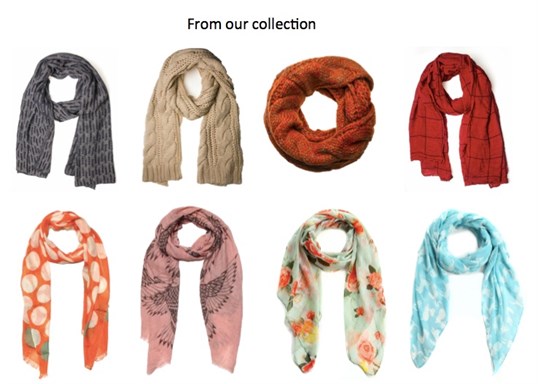 There are many options for fabric, so choose one depending on your requirement, for warmth, design, colour or practicality. Some people love wool, but some people find wool irritates their skin, so they opt for arcylic scarves instead, which will provides the same sort of warmth. In warmer months, you can select cotton, silk and some scarves blend as it is light weight and spice up the outfit.
For more on fabric, you can check our our blog "Getting to know the varies scarf"
Click here to view our scarf collection
Color

If it's your first time to buying a scarf, shop for a neutral colors first. It's easier to pair them up with any kind of clothing. If you've mastered The Art of Scarf'ing, then you can start purchasing brighter and patterned scarves. The one on the photo is a neutral colored scarf with a bit of pattern! That would be a great first pick! When you are more comfortable, try to wear bold colored scarves. Play around by mixing & matching it with the right clothes!
Patterned

The general rule of thumb; when you wear a patterned top, then you should wear a plain scarf. If you are wearing a plain top, by wearing a patterned scarf will add color and texture to your look. If you are new to buying a scarf, pick a scarf which is not too complex, pick a simple or geometric design. Once you are more comfortable with mixing and matching, pick bolder prints to express your personality.
The Art of Scarf'ing isn't rocket science. Release the inner fashionista, have fun.
#scarf #scarves #fashion #taylorhillscarves #taylorhillscarvescomau #summerscarf #winterscarf #brightscarf #plainscarf #style #fashionista #fashionblogger #floralscarf #animalscarf #thickscarf #thinscarf #woolscarf #acrylicscarf #cottonscarf #silkscarf #viscosescarf #cashmerescarf #style #elegance #fashionstyle #fashionstudy #fashiondiaries #stylish #ootd #lookoftheday #lotd #girl #men #ladyscarves #lady #menscarves
---
Leave a comment